Yarn
Home | Product | Yarn
Yarn Business Overview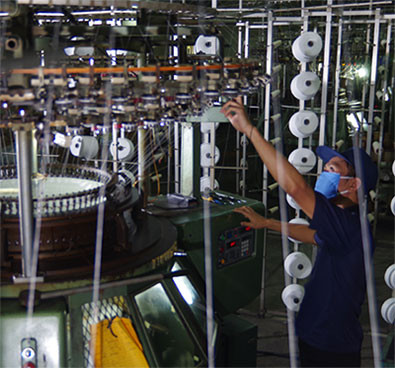 The spinning industry is an industry that processes and creates yarn as a raw material to be woven or knitted. The creation process is the essential first step in all textile industries where products are manufactured by weaving or knitting. Establishing and developing a spinning industry has made "Lifestyle" - under Argo Manunggal - and its six spinning factories become one of the national leaders in Indonesia's textile industry. There are two types of yarn we produce: Ring spun yarn and Open-end yarn. Spindles in Operations: one million spindles. Lifestyle by Argo Manunggal (LSAM) is one of the leading spinning mills industry in Indonesia. Established since 1977, we have decades of experience in the textile industry, including in the production of yarn.


Why with us ?
Our main activity is manufacturing and supplying different types of yarns. We firmly believe in a long term relationship with our material suppliers and customers by providing sincere and prompt service. We lay special emphasis on price, quality, and on-time delivery.
Our team members possess sound knowledge in their area of specialization and offer the best quality service to the clients. Today "We are" is very well known in the industry for sourcing yarn from domestic and international markets. We are always keen to establish a new relationship in the textile industry globally.
We are one of the suppliers of high-quality yarn to major global textile customers such as the United States, Europe, China, Spain, Argentina, Brazil, Japan, South Korea, etc.
We adopt the latest technologies and modified machines from Europe & Asia in our expanding spinning plants and highly automated spinning mills. By continuously following the newest technologies, we can increase production efficiencies and provide a wide variety of yarn. Our spinning capacity has grown in a rapid phase, currently producing more than 1,1 million bales annually. Our automated spinning facilities have enabled us to achieve high-level utilization and efficiencies and maintain a stellar quality for domestic and export use.
With our specialty spinning techniques, we have developed the finest possible yarn and a collection of cotton-blended yarns. Through research and collaboration with our farmers and source, we have produced yarns with a thread count of over 400.
Our Produce range various types of yarn with the best quality standard Yarn
Yarn Product : 100% Combed Cotton, 100% Carded Cotton, Blended Polyester / Cotton, 100% Polyester Spun, Yarn Dyed
Count Range : Ring Ne 16 / 1 - 80 / 1
Yarn Type : Single and double yarn Wax or Unwaxed For Knitting or Weaving, Special request on Quality Requirement
Our Products