Garments
Home | Product | Garments
Garments Business Overview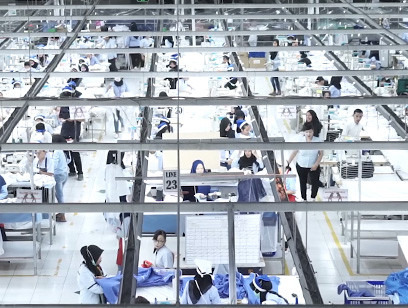 Garment workwear business (under Lifestyle by Argo Manunggal) is a business that focuses on:
Development and garment manufacturing of a wide range of uniform & workwear for multi industries (healthcare, hospitality, business wear, leisurewear, workwear & PPE, beauty & Spa, etc) and corporate wear fabrics made to international & European standards.
New technical and added value for all type of workwear product with supported by in house design, garment sample, and Fully automated garment production:

Use pattern nesting software ACUUMARK,
The cutting section uses an automatic spreader and IMA automatic cutting machine.
Sewing machine uses 651 automatic modern sewing machines Vi.Be. Ma (ITA), Juki & Brothers (JPN)

We are a complete service provider with a combination of our the strength, innovation of garment, design, and with state of the art production capabilities (380.000 pcs/month) that we have in Salatiga central java
Why us?
We have a versatile in house design team work that developing a new style or design from the pattern, sketched or reference garments (pattern in any format can be received electronically, prototype garments made within 2 weeks)
Bulk garments order produced within 4 weeks (fabric availability) and Small order service available
All trims & accessories tested to European workwear standards.
Automated equipment and stringent quality control procedures ensure the highest standard that complies with stringent European quality standards.
Latest finishing techniques
Integrate international standard with safety, labour regulation, and ecology
Our Products