Fabric
Home | Product | Fabric
Fabric Business Overview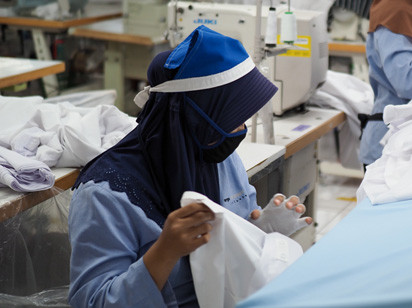 Every thread woven at Lifestyle by Argo Manunggal is a part of an incredible range of fabrics that we offer (dyed & printing). Each fabric has one inherent quality - Comfort. Our promise to manufacture the finest fabrics inspires us to put in that extra effort to create magic. We showcase an enormous range of fabrics and size offerings available in various colours to suit every occasion and every budget. We have in-house multi-source capabilities to produce pure fabrics and their blends. Our fabrics offer an extensive range of styling. We are one of the leading Indonesian fabric manufacturers and suppliers in the domestic markets as well as the International Fashion Export Industry.
Why with us ?
Lifestyle by Argo Manunggal (LSAM) - Fabric/Wovens (dyed & printing) is built upon the foundation of Heritage, Innovation, and Sustainability. We have been part of leading the evolution of textiles in Indonesia since 1961. "From idea to product" is the ethos that is woven into everything we do, and has made us the world's leading multi-fibre fashion solutions provider.
We have the capability to produce about 130 million meters of woven fabric annually. Today, our expertise lies in handling versatility, complexity, a vast spectrum of colours, excellence in craftsmanship, cutting edge technology, innovative concepts, and the best finishes in the world. We also have a separate mini-mill that builds shorter yardages to give customers a choice.
Our Products